I feel so grateful to my niece, Leti Volpp, who took her precious time to write an article to support my FRIENDSHIPOLOGY INITIATIVE. The word 'TREAT' in the title of her article started me thinking more about Us People, Our World, Our Inter-Connectedness – full of Challenges yet full of Hope & Gratitude.
First my thoughts were about Leti. I remember she and her mother came all the way from Princeton, New Jersey, to support the 'Chinese Children's Art on Environment Exhibit' in Washington D.C.. ( Year 2001 ? ). I always think of Leti being sweet, smart, and kind, but I am so moved to learn recently about her deep compassion for Teddy, the dog she brought home – a rescue dog who suffered terrible abuse by humans and lost one leg after someone shot hm. Teddy, a sweet and loving soul, is now hopping around happily as a regular member of Leti's family.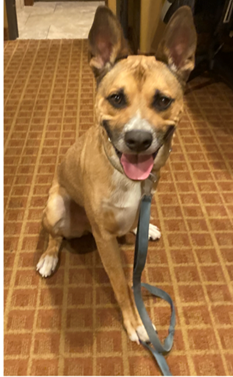 _______________________________________________
My thoughts moved on to Leti's sister, Serena, and Serena & Graciana's wedding in  Raleigh, N. Carolina ( Jan. 2014 ). It was a multi-day affair and far away from our home in Portola, Valley, Ca., but Lucille and I were determined to go and show our affection for our niece as well as to support a Cause for Justice. We were doubly determined as we learned that Graciana's home state North Carolina did not allow same-sex marriages.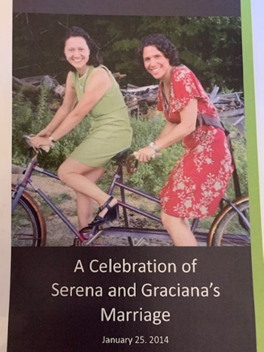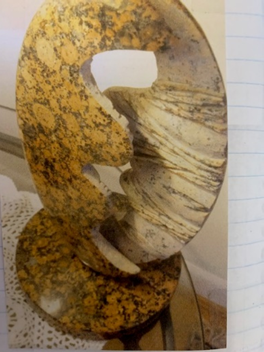 S&G's Wedding is one of the most memorable social events we have ever attended. It was full of HOPE & JOY, LOVE & CARING FOR EACH OTHER from a large group of Friends and Relatives coming from far and near to support GENUINE FRIENDSHIP. That reflected what the NORM of OUR COMMUNITY could and should be.
The joyful spirit was doubly assured by the two Dads. Indeed, Graciana's Dad, Prof. Lapetina welcomed all the guests to his home for the Sunday Brunch. His home was covered with art objects of different mediums – including many of his own creations –large and small canvasses – multi-mixed colors in abstract – some hanging even on the stair hall ceiling. People with food and drinks moved about most freely. Warm exchanges and laughers occurred in a most Spirited yet Relaxed Atmosphere.
The formal Wedding Ceremony was held on a mid-platform of the Grand Stairway of the North Carolina Museum Of Art in Raleigh, NC.. With music provided by a few personal friends, the Couple walked up to the mid-level. Their cross-commitment was triumphantly enacted, but the remaining steps up the stairs silently reminded me that there were still society's challenges ahead. Notwithstanding, all of us felt Real Joy and Hopefulness. The personal commitments were Courageous. The very special Inclusive and Interconnected Group Spirit was dearly valued by Each and All of Us.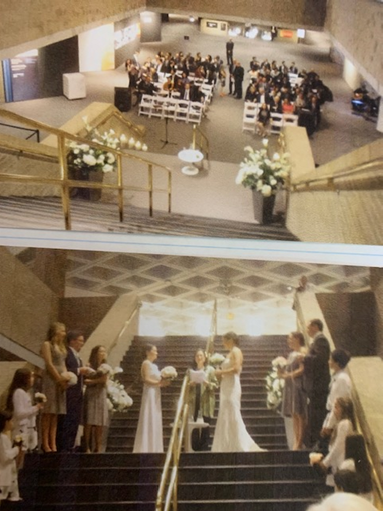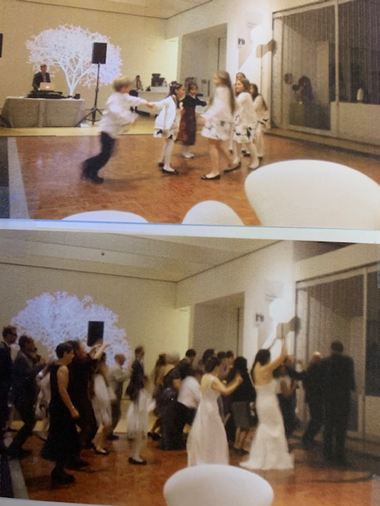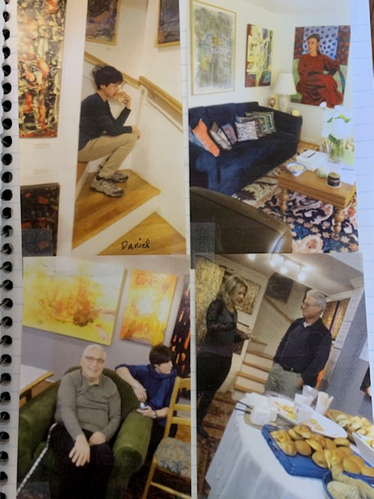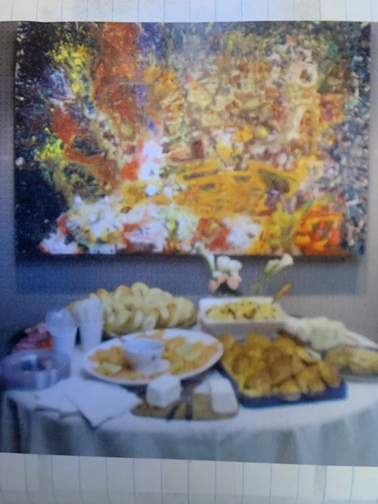 ________________________________________________________
My thoughts suddenly skipped from the S&G Wedding ( Jan. 2014 ) to Valorie and Stephen Zerfas' V&S Wedding held at Camp Campbell, Boulder Creek, Ca. ( Aug. 11-13, 2023 ) – another memorable social event I shall deeply treasure.
The Bride and Groom shared their stories about how they fell in love. They found Love with Trust and the Assuredness that each will make the other a better Human Being. They carefully planned their wedding with clear intent to inspire their wide circle of Friends and Relatives. They carefully laid out a masterplan that will indeed encourage deeper empathetic interactions. The Wedding Program cheerfully announced: " Welcome To Camp Zerfas! "
The site was perfect, as the Redwood Forest in Boulder Creek, Ca, provided a Sense of Awe.  The log-cabin type structures large and small commanded different spaces. The main lodge was more formal, and the sleeping cabins intentionally zig-zagged and entangled to encourage campers to manage new twists in life.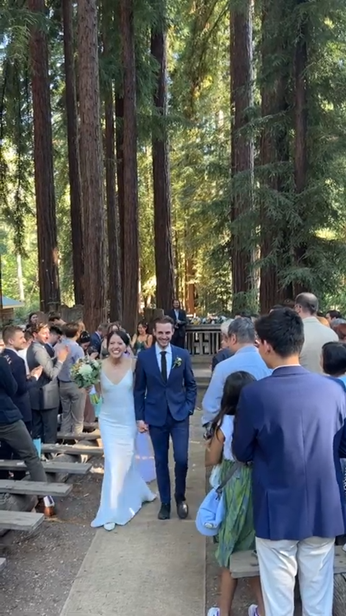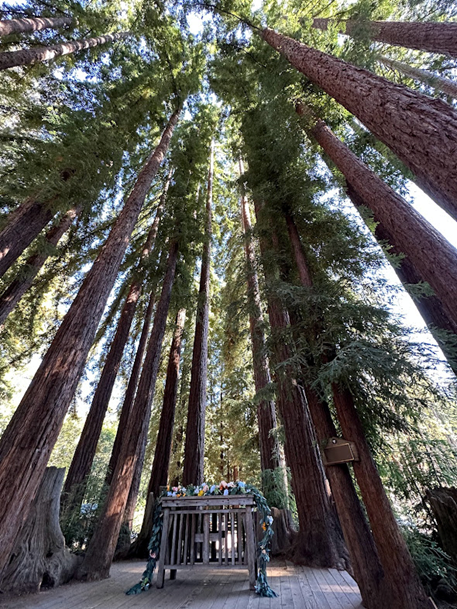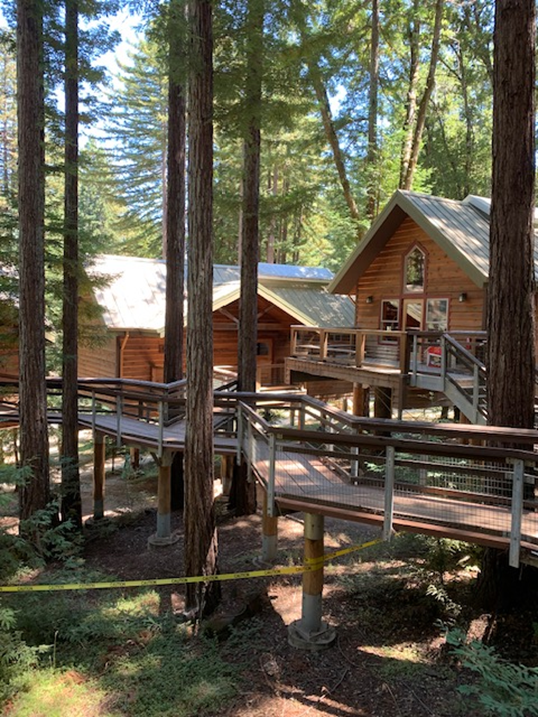 To induce Friendly Connecting, games fitting the natural environment were introduced.  Ping Pong, Volley Ball, Grouping in Circles, Adventures in the Woods, etc., etc..  'Climbing Over The Wall', a team competition was the most challenging and meaningful.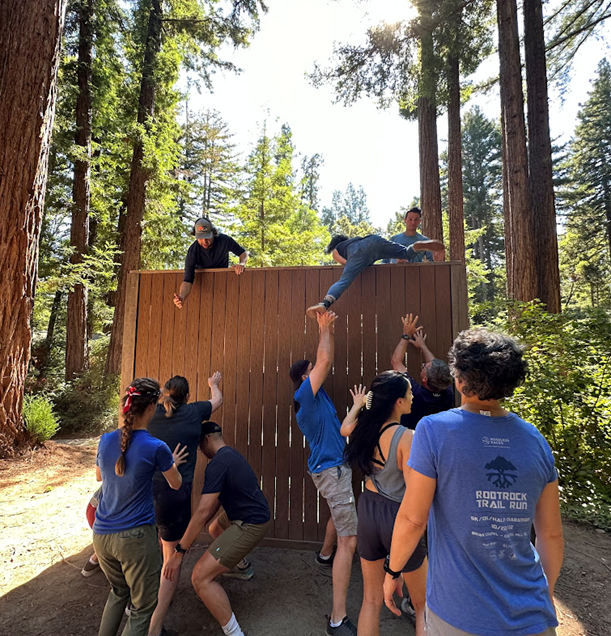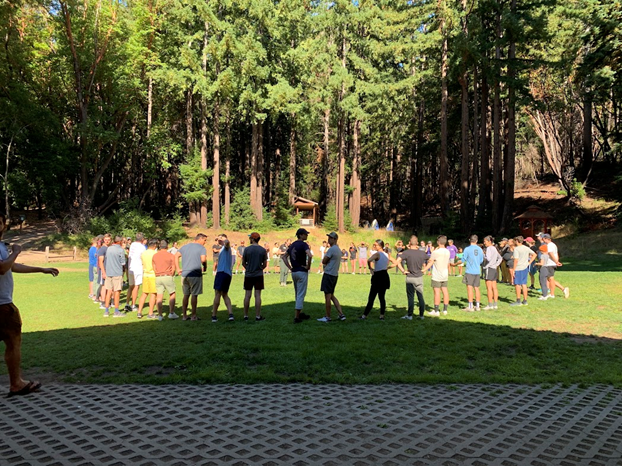 How people Care For or Treat one another as well as oneself seemed to be the Awareness the newlywed couple wanted to share with their Families and Friends. At the Celebration Dinner on Saturday Evening, each table was decorated with flowers, one of either Val's or Stephen's childhood pictures, and two or three mind-opening books. I shamelessly grabbed two books: " Right Concentration- A Practical Guide to the Jhanas " and " Super Thinking ". Mentioned in " Right Concentration ", is a section on Metta Meditation or " Loving-Kindness Meditation ". Sunday morning Stephen conducted a Guided Meditation.  My two sons both told me that they felt the effects.
Personally. I was most grateful to have met Stephen's Mom and Dad. Monica and Jeff and Grandma Pat. We warmly reached out to each other. There was instant rapport and affection miraculously. We are now one Big Family.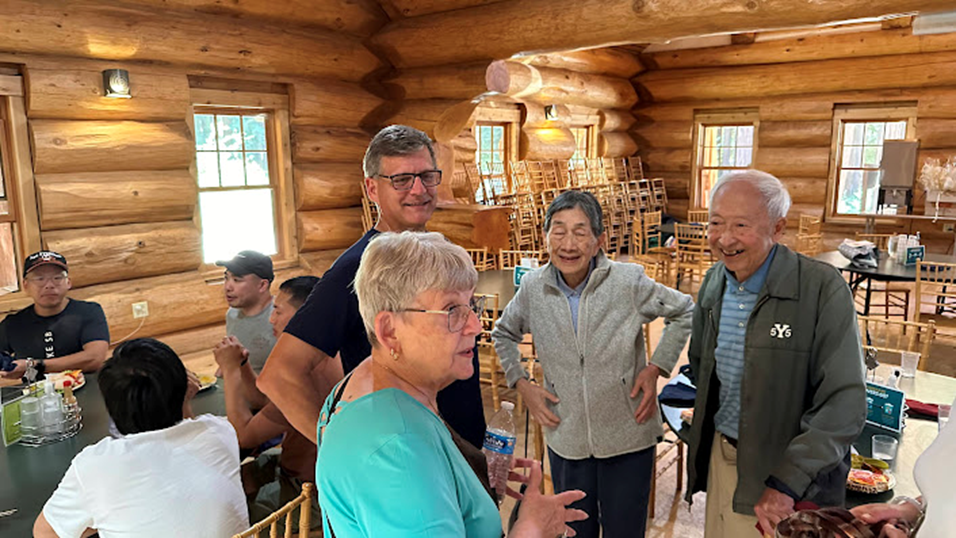 I deeply admire Valerie and Stephen's commitment to each other with Love and Joyfulness and to help each other to be a Better Person. I must also thank them for sharing this Caring Spirit with all of us who were there to celebrate with them, on this glorious August weekend. My Best Wishes to Camp Zerfas !
__________________________________________________________