Mimi is my favorite niece and she often shares her inner thoughts with me. After her daughter's unforgettable Camp Zerfas Wedding Celebration a month ago, I asked the mother how she felt.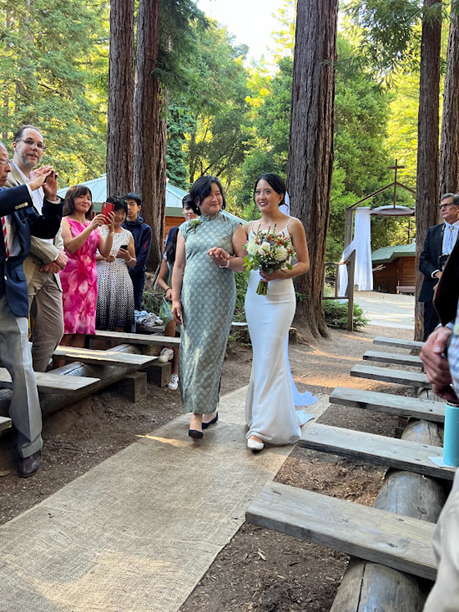 She basically told me that she had a Happy Awakening. She started with some concern about the final decision that she was to walk her daughter up the aisle instead of the father, her ex-husband who parted with her when the daughter was only an elementary school child. It was a hurtful experience.
Mimi still had some misgivings when all arrived to celebrate. But things turned out well as the entire atmosphere at the 3-Day Wedding Celebration was full of LOVE, JOY, GOODWISHES and GOODWILL. I personally believe that we all truly loved Mimi's daughter, Valarie; and she was the JOY and LOVE that generated our Goodwill, and Good Behavior.
But Mimi's Awakening indeed happened at the Meditation Session led by Stephen who just became her son-in-law. The Loving-Kindness Meditation asked all participants to focus first on someone who was most loving and kind to them, then try to give the same kind of kindness to someone who they may still hold certain misgivings. Amid a rise of an amazing sense of Happiness and Serenity, Mimi felt empathy for her ex-husband and his present wife. Mimi said silently to herself, " I forgive. We are all part of Valerie's life, and we can all be friends."
Mimi also realizes how fortunate it is that she now has her husband Mike, who loves her and Valorie most genuinely and in a most thoughtful way. Yes, Mike, is also my Best Pal in our Friendshipology Exploration. He is a modest yet most reliable person.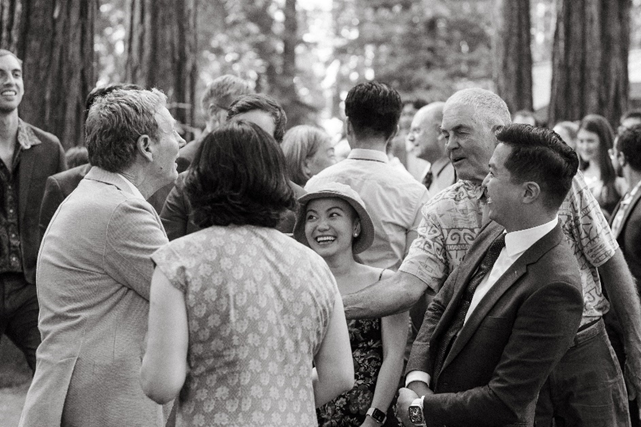 Mike and Mimi at left warmly shook hands with Ray
– – – – – – – – – – — – – – — – – – – – – – – — – – – – – — – – – —
BILLY' COMMENTS:
This is a very revealing and personal story. I made sure I had Mimi's consent before sharing it on this Friendshipology site. What I learned from her story is that LOVE, HAPPINESS. CARING & GRATITUDE CAN OVERCOME MANY MISGIVINGS. LOVE, HAPPINESS, CARING & GRATITUDE CAN GROW FROM ONE TO MANY AND ALSO FROM MANY TO ONE. Thank you, Mimi. LOVE YOU !
___________________________________________________________