By: Xiaoyan Zhang, Ph.D.  August 2022
Suggested to Billy by Sophia Ho for Friendshipology.net

Our friend, Xiaoyan Zhang, Ph.D. (aka Dr. XYZ) shares with us this article about the Flying Tigers and his father's lasting friendship with the 14th air force under command of General Chennault during WWII. This is a moving piece about a friendship that transcended time and politics. Xiaoyan is obviously very proud of his father's accomplishment. We should be as well!
On August 13, 2022, the documentary film "Flying Tigers Made Lifelong Friends" won the Outstanding Documentary film award at the Vancouver Chinese Film Festival.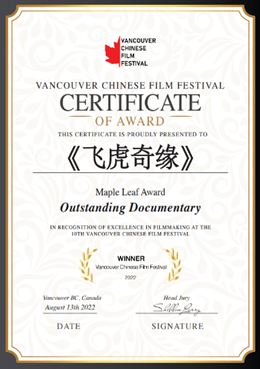 The documentary told the story of a Chinese journalist Zhang Yan's (my father) over 60 years of friendship with a group of American soldiers who served in the 14th air force (AKA Flying Tigers) under command of General Chennault during WWII when the U.S. and China were allies in the war against Japanese invasion. My father called his American friends "brothers without borders". Their friendship was so deep and close that it transcended 60 years of turbulent history and politics between the two countries. Given current geopolitical tensions and the declining relationship between the U.S. and China, it is more than ever more important that we remember and cherish the friendship between the two peoples that touches the hearts of both sides.
In 1944, as a college student studying at a war-time university called "Southwest Associated University", my father met a group of American soldiers working for the American 14th air force stationed in Kunming, Yunnan province. Learning about each other's culture, history, and personal life, sharing thoughts about the war, and protecting each other by sharing critical information on the Japanese bombing, they quickly became inseparable. 
When the war was over in 1945, these American friends went home. Then there was the civil war between the Nationalist and Communist parties, the founding of the People's Republic of China, the Korean War, the Vietnam War, and the Cultural Revolution. These political upheavals and military fights made it impossible for my father and his American friends to communicate for more than 30 years.
In 1979 when the U.S. and China normalized diplomatic relations, my father, a bilingual journalist, was selected to be one of the two first correspondents stationed in Washington D.C. in exchange for two counterparts from the New York Times. My father was elated and planning to reconnect with his American brothers as soon as he settled in the U.S. However, when he walked into his room at the Chinese Embassy in Washington D.C., a pot of flowers was there waiting. It was from his American friends living in New York City. So moved, my father picked up the phone and called Hyman (one of the friends) immediately and told him that he will see them when he visits NYC. Jumping up and down at the other end, Hyman said "No, we will take an airbus to see you tomorrow. We have been waiting for 30 years and cannot wait any longer."
In the following years, my father and his friends traveled back and forth between the two countries and shared many beautiful memories. In 1980, I came to the U.S. and landed at the JFK airport and there was my American uncle Hyman standing at the gate with open arms to welcome me to America. 
Both my father and most of his Flying Tiger friends have passed away. But their lifelong friendship has forever changed my life and my appreciation of the American people. People-to-people communication, appreciation, trust and respect, and collaboration can generate true friendship that transcends time and politics. 
Here is the link to the trailer of the documentary if the reader is interested: https://www.youtube.com/watch?v=wpK7_2RHsao&t=29s
______________________________________________________________