<https://www.andover.edu/news/2023/not-for-self-for-others>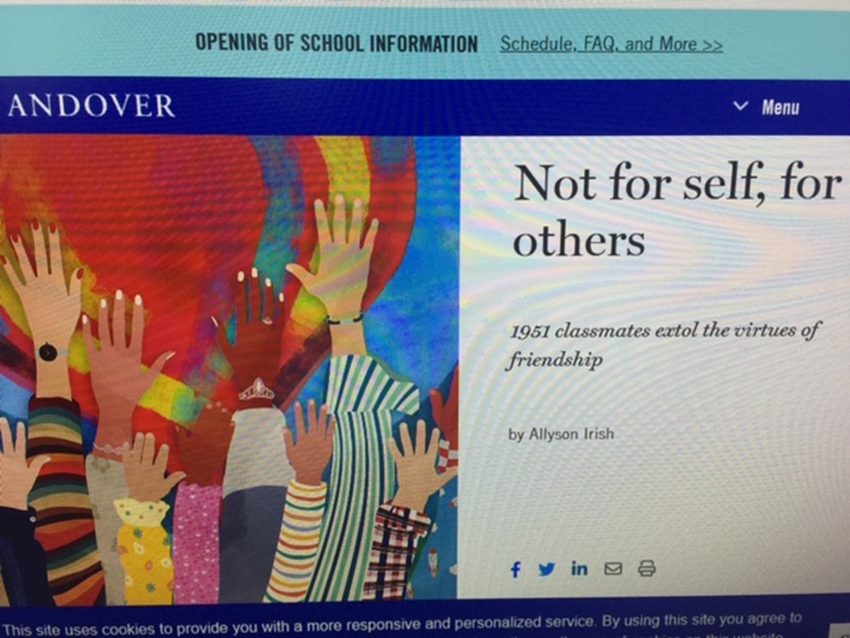 It's been 72 years since Norm Allenby, Bob Doran, George Rider, and Billy Ming-Sing Lee were together on the Andover campus. The four boys enjoyed their high school years immensely, developed strong relationships, and came to appreciate the school's values of non sibi, knowledge and goodness, and youth from every quarter.
Despite time and distance, the men have continued to carry forth Andover's values, and none more so than Ming-Sing Lee, whose Friendshipology blog has grown from a fun hobby into a passion project that he hopes to share with the Andover community and beyond.
On a recent Zoom call, the men reminisced about high school. "We studied hard, and we played hard," Allenby says. Their fondness for Andover and for one another was apparent, as was their friendship, which has grown considerably over the years.
"We all recognize that our time at Andover was formative," says Allenby. "And we have deepened our Andover friendships as adults."
_________________________________________________________
"What does friendship mean? How can we be better friends?
Why is friendship important? These questions so fascinated
Ming-Sing Lee that he decided to create a blog in 2019."
__________________________________________________________
Friendshipology is a bilingual (English and Chinese) blog highlighting thought-provoking, timely, and topical issues written by Ming-Sing Lee and guest authors. It shares a philosophy of life that endorses kindness, empathy, and—of course—friendship.
"I believe every one of us has a good heart," says Lee, a retired architect who lives in California. "I started this blog focusing on friendship because it seemed to me that the world was falling apart in some ways. There were too many misunderstandings and confrontations."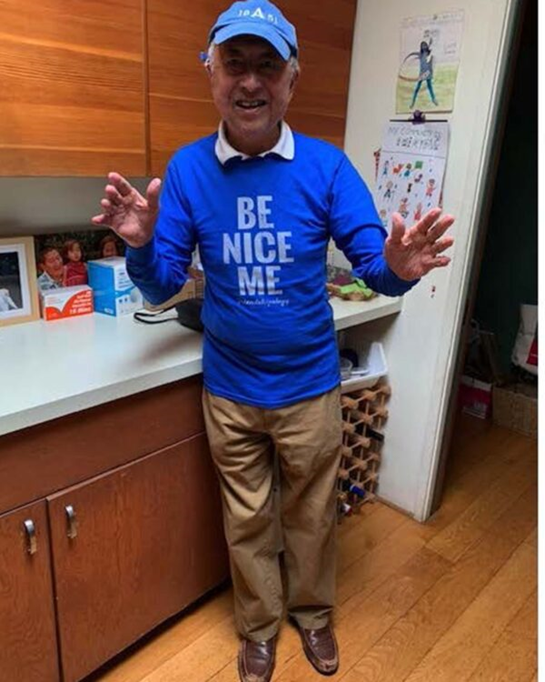 Billy Ming-Sing Lee '51 wears a "Be Nice Me" sweatshirt. The saying has become something of a slogan for the group ever since classmate Norm Allenby's young son had a playdate with a friend who used the phrase before coming into the house. "I think that's it, that's what we all really want, need, or should try to follow as Our Golden Rule," Ming-Sing Lee says.
Friendshipology—and the conversations it has sparked—turned out to be the antidote to this negativity.
"Billy provides words of wisdom, words to live by," says Doran. "And this is totally consistent with my feelings for Andover."
By sharing knowledge and goodness, Friendshipology inspires others to pay it forward by showing more empathy, compassion, and love to friends and family, even to strangers.
"My father used to say, 'Friendship is the finest ship that sails,'" Rider quips. "My four years at Andover were the defining years of my life. Sharing the educational experience and the trials and tribulations of maturing with classmates has left an indelible imprint on me."
The Friendshipology project is a manifestation of what Billy Ming-Sing Lee '51 and other alumni have learned at Andover and how they choose to live in the world.
Do you have a story about friendship that has endured and strengthened over the years? Please share it! Email magazine@andover.edu.
________________________________________________________
Rippling Chit-Chat Began The Following Week – Letter from Mme. Sarah Randt – wife of US Ambassador to China, Clark T. Randt Jr. – to Billy:
Dear Billy,
WE KNOW BOB DORAN!  We have dined several times with Happy and Bob in Naples.
Bob tells good stories and is very sincere.
Not sure if you know, also, that our son, Paull Randt,
Went to Andover and very much appreciated his education there. 
He was captain of the swim team and
put on a Chinese art exhibition. After taking all the Chinese
classes offered, Paull studied Russian in his senior year and continued
his Russian language studies at Yale.
Paull left Citibank and is now at the U.S. Treasury and loves it.
Keep up your Friendshipology work!  Fondly Sarah
_____________________________________________________________
Billy Cheerfully Reported to Bob Doran The Next Day :
Hi Bob,
Just learned that the Randts know you  and Happy, and think highly of you. Cheers ! 
See Sarah's note below. Sarah was the Honorary Co-Chair of The 1990 Institute's
"Heart to Heart Bridging between US and China's Children via Art and Environment",
which Billy Ming Sing coordinated.
Regards to Happy, Love,
Billy
________________________________________________________________