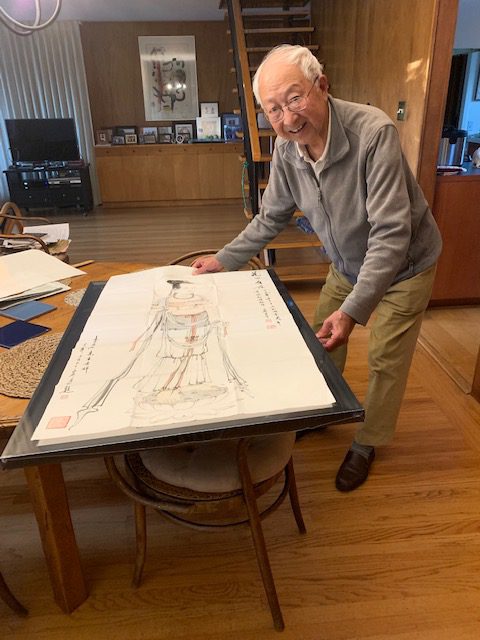 I joined the USCPFA-S.Bay Chapter in 2006, and was elected Membership Director in 2012.  That started my serious inquiry on what Friendship really means, and how it can be initiated, nurtured, sustained, and maybe recovered after some gross misunderstanding.  I started to do some research by reading books and by Googling.
I also wrote a few articles which were published in Women of China magazine, as well as Voice of Friendship, a publication by China Friendship Foundation for Peace and Development. I was particularly interested in promoting Home Stays in Building Cross-cultural Bonding.
In 2015, I was invited to conduct a workshop on "Good Feelings" at the ICAF World Children's Festival on the Great Mall In Washington DC, on a July 4 weekend. There sprouted the idea on guiding a group of International students to Define Friendship, Write an Declaration of Interdependence, and Propose an Ideal Cross-cultural Institute on Friendshipolgy.
An amazing opportunity to start a project that may eventually lead to the Ultimate Ideal  was a proposal to connect Stanford University's and Peking University's psychology departments to do a 3-year joint research project at both ends of the Pacific. The study was named " The Role of Emotional Values and Expression in the Development of Cross-Cultural Friendships in the US and China " Our hope was this would initiate a Momentum towards Global Engagement  subsequently. I like to take this opportunity here to thank publicly, Prof. Jean Oi ( Director of Stanford Center at Peking University ), Dr. Jennifer Choo ( Assoc. Director at Stanford University's Walter Shorenstein Asia-Pacific Research Center),  and Prof. Jeanne Tsai ( Director of  Emotion Lab. at Stanford's Department of Psychology ) for their tremendous efforts.
Although that proposal fizzled due to fund-raising difficulty, my dear 1990 Institute colleague. Dr. Marsha  Vande Berg, advised me to keep telling this story to my friends – To keep the Idea alive !   Surprise !  Out of the Blue, a young friend, Yi-lu from Beijing, wrote to me and said she had set up a website https://MingSingLee.com  ( recently changed to https://Friendshipology.net ), and had recruited three other young friends ( Yihua, Wenmo, and Tingting ) to help me promote FRiendship and to manage this bilingual website.  She said that she was moved by one of my articles stressing " Not to judge people too harshly and absolutely. Try to cultivate others' Good Qualities and Goodness, as well as our own. ". I started first to post a few of my own articles onto the website but very wisely decided later to involve many of my close friends.
Yesterday marked the first anniversary of this Friendshipology  website, and the week before I started to review all the 77 articles I had so far collected – to examine 'What Lessons Learned and What's still Needed .  Thanks to all of my friends who have so generously given their time to support this effort,  I myself learned quite a lot from these friends on various aspects of Friendship and Friendshipology.  Most importantly I feel that our friendships have deepened from this sharing, and I am truly happy and grateful. I am also glad that I was able to connect a few friends who apparently share same high aspirations. I hope that they will be able to collaborate together when opportunities allow.
From the review I noticed that several friends focused on Gratefulness in Receiving and Gratification in Giving , few on how best to treat people, one was angry and unforgiving, and another Critical of Society and Cynical.  Most covered the rosy aspects. I will indeed welcome more stories on awkward situations, recovered or not recovered, or just thoughts on how it might be recovered. I welcome more descriptions on specific, big or small, kind or thoughtless, deeds which I think younger people can readily learn something immediately useful.  I welcome more stories on how Community Spirit effects Individuals and how Individuals can effect the larger Community.  Stories on Connecting and Helping others to Connect will be most helpful. Can we learn more from each other about, Attitudes, Listening, Timing, To say the right words or When to be silent, etc. etc. ?  I am hoping to collect more Case Study type examples that can be "Inspirational" and/or "Educational" or "Provocative with Good Effects", and Ideas on how to set up the proper environment or activities etc. to induce Friendship, Bonding , and Good Feelings.
Please participate in this effort and share your knowledge, experience, and ideas on this Friendshipology website.  I can be reached at WilliamMSLee@gmail.com. With your article, please provide a short vita and at least one of your favorite photos.
Thank you !
Gratefully yours,
William ( Billy ) Ming Sing Lee 李名信 ( 88 yr-old retired Architect ) 271 West Floresta Way, Portola Valley, Ca. 94028, U.S.A.
_______________________________________________________________