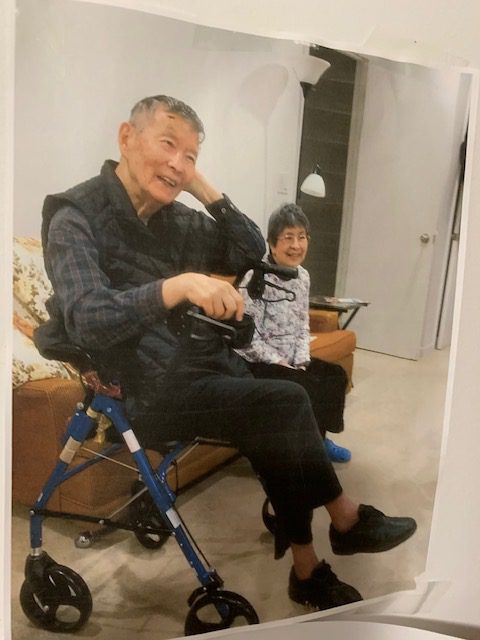 德培弟: 我们的友情是建筑在日复一日堆积起来的互相了解上,自从得到了你走的消息我的一切都不能正常了,在这种茫然的情感下叫我说什么呢?好,还是按照你说的写些有用的。 (一)不要認為一定要十全十美的人才能做朋友。當然每個人都有他的好處和壞處。你學他的好處感化他的壞處,不就行了嗎?(二)人不應該做不正當的事,即便他是我最好你朋友,如果他做了錯事,我也不放鬆他。(三)不應該總說人家的缺點,而應當將你所知道你告訴他。(四)不要太自信、太驕傲,比如下棋吧,如果對手是個新認識你的人,不妨輸給他兩局阿甘以上都是你跟我說過的話,我覺得這很寶貴,人的一生中又能聽見幾回這些忠實坦白的勸告呢?還有很多有價值的言語,我一時也想不起來。就這幾句話讓我們共同勉勵吧
Brother Depai: Our friendship is built on the mutual understanding that has been piling up day after day. Since I got the news that you are leaving, everything about me feels not normal. What can I say under this dazed emotion? Okay, you ask that I write something useful ! (1) Don't think that we must be perfect people to be friends. Of course, everyone has his strengths and weaknesses. We can learn from the others' strength and help mend the other's weaknesses. Should we not do that ? (2) People should not do improper things. Even if our best friend does something wrong, we can not just relax him. (3) We should not always talk about other people's shortcomings, but should tell them what we know. (4) Don't be too confident or too proud. For example, in playing chess. If your opponent is someone new to you, be willing to lose a few games to him.
The above, Depai, are all the things you have told me. I think they are truly precious. How many times can people hear such honest and frank advice in their lives? There are many more valuable words I do not remember. "Write something useful" you say. Okay, let us encourage each other at least with these few words.
__________________________________________________

德培弟:
你去香港的消息使我憂鬱到現在。同學至今,我們有說不出來的感情。你還記得我們一起說笑的情景嗎?你還記得我們在一起打球,在一起讀書的快樂嗎?你可發現了我們是快樂的人嗎?
現在你要去了,你的離去好像我們失去了火一樣,想起了人類沒有火的痛苦,是不知如何來形容的。你去了,將使我不如從前一樣的愉快;從此,我也少了一個共同研究學問的同志了。我現在有一個希望,就是能到香港去再和你共同學習。同享受那無限度的快活生涯。啊!阿甘!你等著我,我會到香港去找你的。
現在,來講幾句我們能互相勉勵的話:你是一個天真活潑的孩子,在你腦中充滿了正義,你是智慧絕頂的。你好活動,這使你交結了許多好友。人們似乎都願親近你。這都是你的好處,也就是你的成功的因素。望能保留下去。
你也有缺點。你常說人不應該太高傲,太自信。這是?痴可指的。但你卻常過於太不自信了。當然太自信是不好的,但如太不自信了,也是同樣的不好。一個偉人的成功可說是出於他的自信心的調和。他能處事於自信而心虛的態度,這就是他所以能出人一頭的原因。憑你的聰明,能克服所有的難。切不要失掉你的自信心。
希望你永遠快樂並且健康
Brother Depai: The news that you are going to Hong Kong makes me sad. Classmates for so many years, we have unspeakable feelings. Do you remember us talking and laughing together? Do you remember the joy of playing ball and reading together? Did you find that we were the happiest people? Now you are going. You are leaving us lost without fire. Know the pain of human beings without fire. I don't know how to describe it. Your going will make me less happy than before. I have now lost a comrade with whom I pursued knowledge together. I now only hope that I can go to Hong Kong and learn with you again. Together enjoy the infinite joyous life. Ah! A-Kan! Wait for me, and I will go to Hong Kong to find you.
Now, here are a few words that we can encourage each other: You are an innocent and lively youth, full of justice in your mind, and you are extremely smart. You are friendly and sociable. People seem to want to be close to you. This is your benefit and your success factor. Hope you keep it. You also have shortcomings. You often say that people should not be too arrogant or too confident. This is idiotic. Often you seemed to be lacking self-confidence. Of course it is not good to be overly confident, but it is also not good to appear lacking in confidence. A great man's success is due to his ability to balance self- confidence with humility. Thus he will stand out. With your smartness, you can overcome all difficulties. Don't lose your self confidence.
__________________________________________________
德培友,你的走訊來得太突然了我沒料到我們同學數年卻會半途暫別。數年來,我們一起學習一起遊玩,剛0到了互相了解的時候,命運又把我們應硬生生地拉開.你可還記我們曾一起嘻笑,一起打球,一起習作的快樂嗎?這將是一個最美的回憶。願你別把它忘了。
你的走,使我的心受了一個不小的打擊。我意識到今後我所有的中學時代中將少了一位共同研究的好友。我心目中感到無限的空虛茫然。在這本小冊子上我又能寫些什麼給你呢?
你的走使我羨慕,因為你能先我走出這狹小的山國去接觸更寬廣的人生。我羨慕你能看到那變幻無端的海洋。可是要注意:越是文明的地方罪惡也越多。望你步步小心,著著防備。當心墮入了深淵,將反悔不及你是我所遇到的人們中最聰明的一個,希望你正常的利用你的智慧充實自己的身心,切不要聰明反被聰明誤。你有一顆善良的心及和靄的態度。任何人你都能相處的很好,這是你值得令人佩服的地方。你也有缺點:你缺乏自信心。當然人太自信了是不好的.可是不太自信是更不好。[有志者事竟成]這是一句千古名言,對自己失去信心的人將來會是一無所成。這是很危險的,望你能改過。還有你對於小事不太注意,比如說人家托你做一點事情,而你常常會把它忘掉。這雖是小事可是會影響你的信用,望你注意。
DePai, My Friend, Your news came too suddenly. I didn't expect our normalcy be disrupted like this. For several years, we have learnt and played together, and then we got to know each other. Now fate pulls us apart so abruptly. Do you remember the joy of laughing together, playing ball, and studying together? This will be our most beautiful memory. I hope you don't forget it.
Your leaving causes a big blow to my heart. I realize that I will lose a friend with whom I have studied together thtough out my middle school years, . I feel infinite emptiness in my mind, now. What can I write for you in this booklet?
Your parting makes me envious, because you will be first to leave this small mountain country to come into contact with a broader life. I envy you that you can see the unprovoked ocean. But be careful: the more civilized the place, the more evil it maybe. I hope you will be careful every step and be on guard. When you fall into the abyss, I will regret that you are the smartest of the people I have met. I hope you can use your wisdom to enrich your body and mind. Don't be smart and mistaken. You have a kind heart and a gentle attitude. You can get along well with anyone, and this is your admirable trait. You also have shortcomings: you lack self-confidence. Of course, it is not good for people to be too confident. But it is even worse if they are not self-confident. There is a well-known saying that " people who lose confidence in themselves will not be able to accomplish anything in the future." That's dangerous, I hope you can correct that. Also, you don't pay enough attention to small things. For example, someone asked you to do something, and you often forgot to do it. Although this is a trivial matter, it will affect your credibility. I hope you will pay attention.
___________________________________________________
GEORGE KAN's Brief Bio :
I was born in China. We as a family lived in Hong Kong when the Second World War started. We went into China in 1942, staying in Guilin and Kunming until 1949. We came back to Hong Kong in 1949, and went to the United States in 1951. I went to Brooklyn Polytechnic Institute for my undergraduate and M.I.T. for my graduated school. I became a Christian while I was in M.I.T.
My objective in life is to serve Jesus Christ in whatever ways God leads me. Lately it is the distribution of good music with a message through the Internet. God has also provided me with the means to fund His work through a charitable trust.
Seventeen years ago, when I was 70 years old, I thought that my life was going to end. I came to this conclusion because in Psalm 90, a psalm written by Moses. He said that a man's life is about seventy, but if he is strong, eighty. I thought that since I was not strong, that was my life. Thank God He has given me seventeen more years to live.
I was married to Sylvia Fong in 1961. We have four children, Elizabeth, Sarah, Paul, and Samuel. Thank God they are all Christians.
_____________________________________________________
BILLY'S COMMENTS :
George and I have been friends for nearly 60 years. I remember him trying to introduce me to Christ in the early 1960s by taking me to listen to the famous Billy Graham at the NYC's Madison Square Garden. Despite of George's continuing efforts, I have remained an Agnostic with a touch of Buddhist attitude. Only recently, we discovered that we have a very different take on Donald Trump, but we, indeed, still have deep respect and affection for each other. I asked Geoege for permission to post these precious PARTING WORDS from his old high school mates on this special Friendship website. He said "YES" without hesitation. BTW, this tradition of asking friends to write a few meaningful Parting Words is so good for validating, enhancing, and forever sustaining GOOD FEEELINGS among Friends. We should encourage that as a global tradition, indeed ! Thanks, George !
__________________________________________________________