During the past few years, I have been studying Friendship and How to Develop Friendship. Along the way, I learned that surrounding situations and people have much to do with what could actually happen. To promote Friendship we, indeed, need to capture or create suitable conditions. Those people who contribute to such activities, I shall call them Actual Connectors.
This article " IN PRAISE OF ACTUAL CONNECTORS IN FRIENDSHIPOLOGY " is written to honor several of my personal friends and acquaintances who have been doing just that knowingly or not knowingly. I want to applaud them and thank them.
George Rider and Dan Ward , class corresponding secretaries from Andover PA'51 and Yale YC'55, have been responsible for keeping our classmates connected via the school alumni magazines. It's not just fresh news they pass along, but the Spirit of our Common Aspirations and the  Schools' mottos : "Non Sibi '' for Andover and "Lux et Veritas"for Yale.
Linda Fornaciari and Di Gow the forces behind Ladera Crier (LC ) and Ladera Recreational District ( LRD ) were introduced by an article by Linda Hubbard in 2016. The Ladera Recreation District's mission is to provide a clean, safe recreational environment in which members can exercise, socialize, relax, and develop lasting friendships through a variety of social events, traditions, and leisure activities. The Ladera Crier is one of the most beautifully presented monthly community publications in this country – keeping up with Ladera's reputation as the Best Educated Community in the United States today.
Vic Young, and Mike King ( whom I address as Brothers since we all belong to this Chinese Fraternity, FF Fraternity ) produces the FF Bulletin and coordinates our Facebook Connection respectively. They keep the members engaged on serious issues as well as having fun and laugher together. In this fraternal organization, the wives or Sisters actually play a key roll. They provide important wisdom and extra warmth in our relationships. To hold activities in private homes has proven to be the best environment to build bonding. We can only do so when we have the Sisters' enthusiastic consents.
Marge Ketter and Mike Revzin are National Officers of US China People's Friendship Association – Marge the Membership Director and Mike the Editor of USCR ( US-China Review) a quarterly publication of US- China People's Friendship Association. US-China relationship changes with political conditions, but for people who intrinsically value Friendship over Conflicts, we must be patient and steadfast- with eyes open and also hearts always open. We must stay connected.
I discovered the word "CONNECTORS " few years ago when a friend introduced me to Malcolm Gladwell's book, TIPPING POINT. Indeed, Connections are important and Connecting People for Good Causes is especially important. Connections could be Friendships. Connecting People is part of Friendshipology.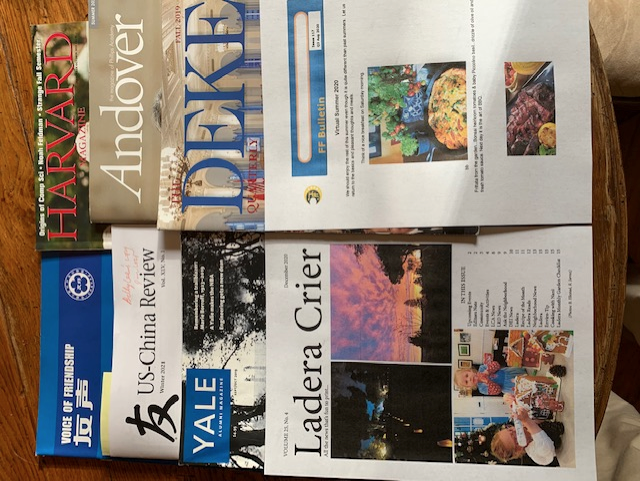 ___________________________________________________________