Chinese Tea Culture
Tea is considered special if served on hills with mist or cool breezes and in the moonlight. "The Chinese emphasize the harmony between humans and nature.
Chinese teacups are small because this allows for a better focus on taste and overall appreciation of the tea.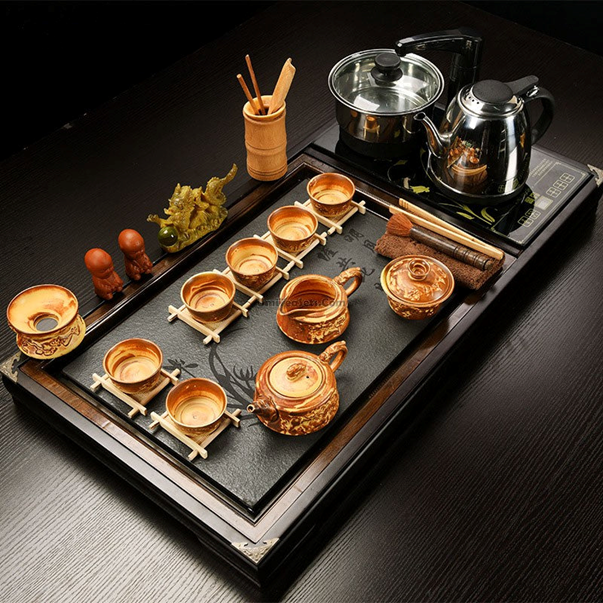 Chinese Golden Dragon Gongfu Tea Set with Black Stone Tea Tray for you to make your tea perfectly in Gongfu tea ceremony, known for its beauty and artistry.  You will begin to enjoy every nuance of taste and aroma from your tea. Using this gongfu tea set with tea tray, you will find yourself in extremely tranquil artistic mood while sipping a cup of excellent tea. Meaningful Conversations Follow.
GETTING TO KNOW CHINESE TEAWARE – Keats Blog
1 THE LIDDED TEA BOWL (盖碗/găiwăn) & FAIRNESS PITCHER (公道杯/gōngdaò bēi) · 2 PURPLE SAND TEAPOT (紫砂茶壶/zĭshà cháhú) · 3 TEA TRAY (茶盘/chápán) · 4 SCENT CUP …
___________________________________________________________________
Japanese Tea Culture
Japanese tea culture, or "chado" (also known as "sado" or "chanoyu"), is a tradition of preparing and serving tea that has been practiced in Japan for over 800 years. The practice of chado emphasizes the principles of harmony, respect, purity, and tranquility, and it is seen as a form of art and a way of cultivating mindfulness and spiritual awareness.
The ceremony is often conducted in a special tea room called a "chashitsu," which is designed to create a sense of harmony and tranquility.
ANCIENT JAPANESE TEA HOUSE SET IN AN ORNATE ZEN GARDEN  – Encouraging EMPATHY, COMPASSION, & CONNECTING
________________________________________________________________