By Billy Lee – May 2022
Monday May 16, I attended The CCIS 67th Annual Meeting at Stanford University's Bechtel International Center.  The main attraction was A Panel of 4 Speakers from 4 Countries – Stanford's foreign students from Ukraine, Belarus, Russia, and Georgia.
I arrived early and sat next to a fellow wearing a tag with a clearly printed one word, ED.  We chatted briefly. I learned that he is a CCIS Volunteer who has been teaching English to Stanford International Graduate Students – 15 students once a week.  I also shared with him my volunteering at CCIS' English in Action program where I had a Japanese Partner from Kyoto, etc.. It was quite a surprise to me to discover later that he was an invited speaker to speak just before the main Panel.
After his talk, I all of a sudden realized how important it was in Setting the Stage. According to ED, he simply told funny stories to enliven the meeting.  Photos below from Lydia Moret show the atmosphere we have at most CSIS meetings. Indeed, the usual CCIS Spirit is one of Goodwill, Caring. Engaging, and Sharing of Joy and Hope.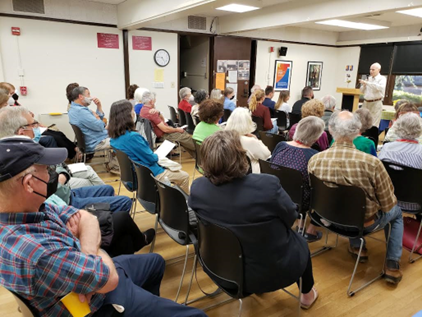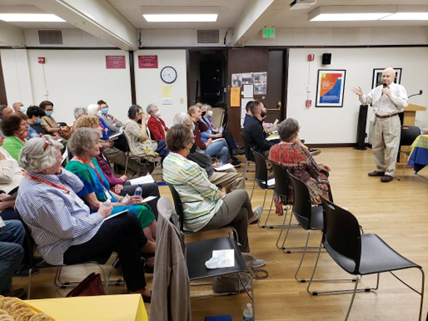 ED, whose full name is Edward Loizeaux, has special skills to teach the rest of us who believe in Promoting International and Cross-cultural Friendship. Ed is a retired management consultant specializing in the evaluation and implementation of company-wide computer systems, such as MRP, for mid-sized manufacturing firms worldwide.  His clients ranged from Brazil to Singapore to Philadelphia to San Francisco and all points in-between.  His travels to numerous foreign countries inspired his current volunteer activities at Stanford University teaching English to international graduate students. 
I have serious hearing difficulty and cannot catch much of what people say to me, but I try hard to catch a few key words when possible, and make special efforts to watch what is going on and how things are delivered and received. Unfortunately, of ED's 3 Funny Stories, I caught the essence of only two, but they are so uniquely international and effective for the occasion. I like to share them with you even though I wish you could have heard this directly from ED himself. One was about an Asian Scientist being introduced by a jovial American colleague: "A Jolly good friend and a Bachelor". Pounding on a table near by, Ed showed the Asian Scientist very upset and said " Dear Friends, I am a PhD !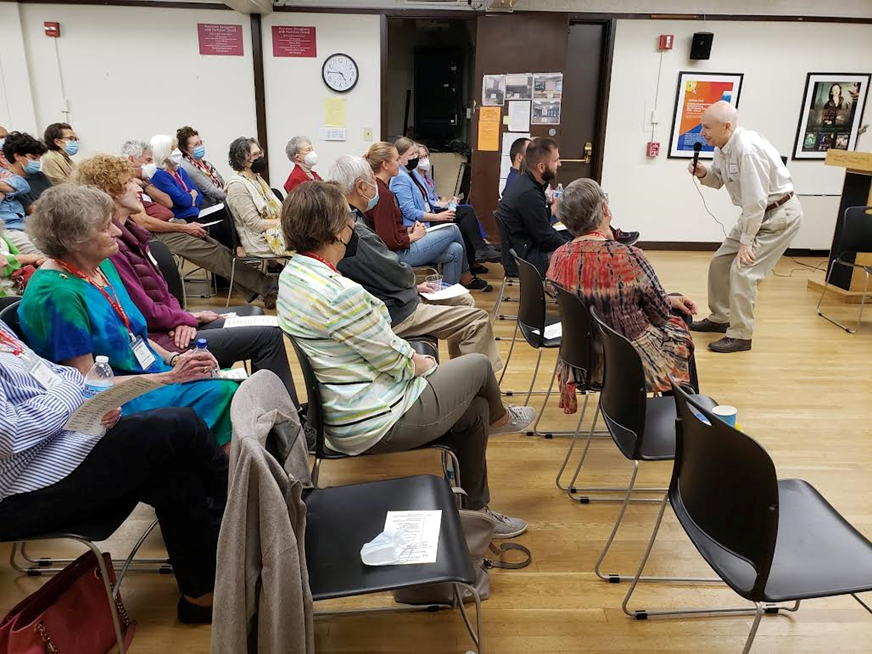 The second one was about the Finns from Finland. They are normally "Introverts" and tend to talk to another person with their faces turned downwards and eyes focusing on their own shoes. When asked if the Finns ever become "Extroverts"? The answer is " Ofcourse ! When his or her eyes focus on the other guy's shoes. "
ED has his own charming way of engaging his audience. Note how he bent forward to engage Giorgi Abaiadze from Georgia as he also captured full attention from the entire audience.
So impressed by Mr. Ed Loizeaux, I asked for his email address and wrote to him to invite him to lunch and perhaps also to write something for my Friendshipology website : <https://friendshipology.net>.  He graciously rejected because he had to take care of his wife who is not well. Instead, he offered some ideas for Friendshipology to pounder. Please see below :

MAKING FRIENDS
— how to do it —
1. Do you really want a new true friend? Or, do you prefer a fast and efficient transaction? Making a new friend will take some time. Time is the most valuable thing most of us have and should be spent carefully. Knowing what you want is the first step.
2. Perhaps the easiest way to make a new true friend is to find a common interest. Use that interest, whatever it may be, to begin a conversation. Use this discussion to test the likelihood of mutual interest.
3. Listen very carefully and thoughtfully. Place yourself in his (or her) shoes and reply from that perspective. Your ideas will eventually work their way into the relationship. There is no need to be first.
4. Do not offer an opinion unless one is requested. No friend likes being told what they should believe. Listen and be accepting of new ideas even though they may seem strange. Giving advice can come later.
5. Extend an invitation for a future friendly conversation. If it is accepted, you will have planted the seed for a meaningful new friendship. It will need water and fertilizer, but it will grow with time.
6.  Keeping in touch over time and distance is usually necessary to sustain a new friendship.  Try hard to prevent long periods without contact.  The best friendships are often those which have lasted a very long time.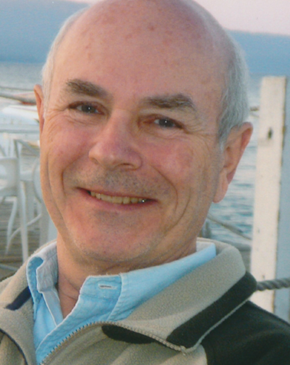 _________________________________________