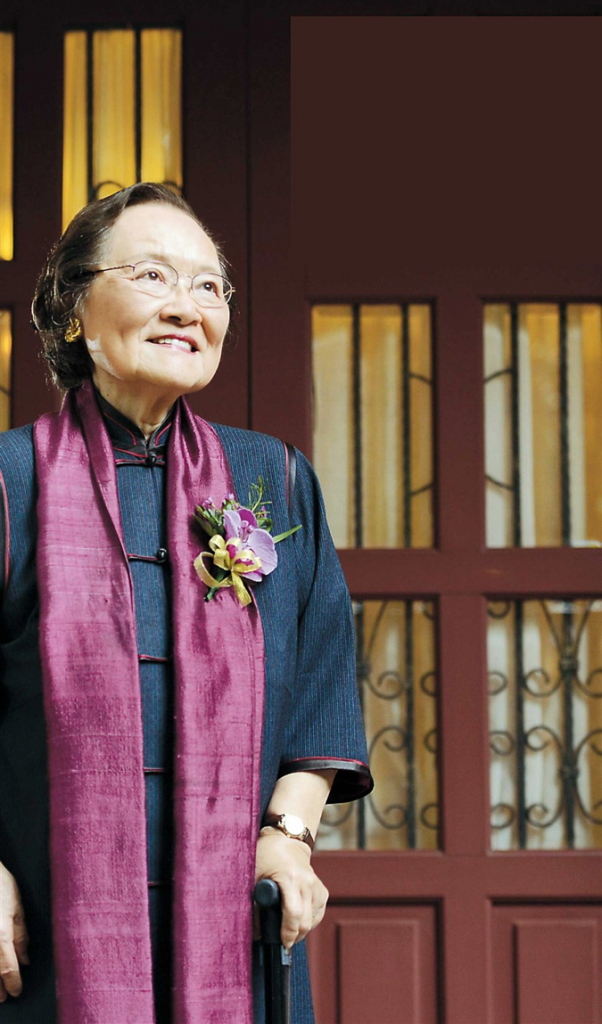 My dearest older cousin, Millie Yung, and Sister Linda were friends at St. Johns University, Shanghai. Linda was Ms. Linda TSAO then, so I would cheerfully address her "TSAO GA JIA JIA" in Shanghainese.
Since Yuelin Yang became a FF Brother, his Mother naturally became my "YANG GA MM MA". But, by FF Fraternity's simplistic logic " All immediate female relatives are "FF. SISTERS". So in FF circles, she automatically became my "Sister Linda".
But since Sister Linda is my most admired old friend and colleague from The 199O Institute, I sometimes salute her " AMBASSADOR YANG " for her prominent role as the U.S. Ambassador at the ADB (Asian Development Bank – appointed by President Bill Clinton – 1993-1999 ).
_____________________________________________________
I first want to take this opportunity to thank "Sister Linda" who in 2003 helped arrange an opportunity for me to visit UC Davis's Mondavi Center for Performing Arts ( one of the best acoustical chambers in the U.S. ) – as I was trying to persuade Ningbo University ( Ningbo is my ancestral home ) to build a First Class Music Center.
"Sister Linda" treated me graciously with her delicious home-cooking at her home in Davis. To this day, I still remember her succinct advices, her warmth, her fantastic Chinese paintings on the walls, and an unusually large and beautifully bonded book titled: "SUN TZE BING FA. ( The Art of War ). I was profoundly impressed.
_____________________________________________________
Many of us already know about Sister Linda's many spectacular achievements. They were mostly mentioned in the FF Announcement for this FF Strong Town Hall Zoom.
However, I think we all want to learn HOW she accomplished WHAT she did, and from Where came her MAGIC ?
I would first examine why she was awarded the "Distinguished Service Medal" by the U.S Department Treaury and the "Honorary Citizen & City's Favorite Daughters Award" by Shanghai's People's Congress.
It had been explained that the "Distinguished Service Award" was for her steering the bank towards policies and practices which made development assistance more equitable, and enduring, and her key role in defining the bank's participation in the international response to the Asian Economic Crisis of 1997-98.  
The Shanghai "Honorary Citizen Award"- was for her bringing international technology and standards in water quality management to the Suzhou Creek environmental cleaning and revitalizing Project – most beneficial to China and to Shanghai, her Ancestral Home.
It seems to me, to accomplish what she did required: first having deep purpose and foresight / then ability to analyze complex problems – technically, economically, and diplomatically / optimizing and prioritizing various opportunities / providing persuasive policy ideas and plans / and finally leveraging her personal integrity, credibility, and charm. I think the last aspect may be the most unique about Sister Linda that we should learn from her.
Indeed, at this Zoom gathering, we can learn a lot by LISTENING closely to WHAT Sister Linda has to say, and WATCH closely on HOW she tells her stories. I would pay close attention to her VERBAL & FACIAL EXPRESSIONS.
If we seriously wish to learn from her, we must watch her Manners and Composure and capture her Inner Spirit : her Compassion, her Dedication, her Optimism, her Constant Striving, her Pride & Modesty, and her unique Shanghai Sentimentality.
Now, Let us Watch and Listen Closely to Sister Linda.
Welcome, Sister Linda !
_________________________________________________
BILLY'S SUGGESTION – TRY TO CAPTURE :
Why she sings ?
What she sings ?
How she sings.
Learn from her Songs
Learn from her High and Low Voice Control
Watch her eyes, lips, and body movements
Catch her Passion – Style – Effects
Confidence – Trustfulness – Optimism.
Totally void of Pretense & Arrogance !
____________________________________________________