By Billy Lee – PA 1951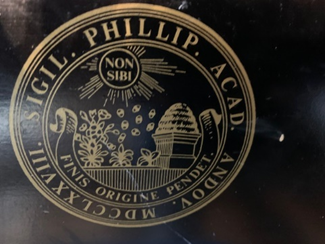 Norman Allenby, Bob Doran, Billy Lee , and George Rider met at Phillips Academy Andover as first year students in 1947. They have stayed in touch over the years and recently came together as they reached 90, to propose the launching of an Intergenerational Historically Memorable Project to commemorate Andover's Contribution in Educating Global Teenagers. Particularly meaningful to them are Andover's NON SIBI motto and the Diversity and Cross-cultural Inter-connectedness encouraged at this very special Melting Pot Community.
Billy understands that Andover's "Non Sibi" means "Not For One's Self ". It actually implies "Non Sibi Sed Aliis" or "Not for Self but for Others" and "Non Sibi Sed Omnibus" or "Not for Self but for All". The Bond connecting Norm, Bob, George, and Billy is not a commonly social one. They are bonded by the Spirit of Non Sibi learned at Andover. In their separate lives, each had done laudable deeds- Not for Self but for Others. Norm promoted Water Reuse. Bob promoted Culture and Art. George lifted underprivileged youths to gain better education. Billy attempted to build Good Feelings between U.S. his father and China his mother. Billy and Norm went to China together to introduce Norm's Bio-chem Water Purification System. Bob contributed to Billy's Chinese Children's Environment Art Exhibitions throughout US. for two years. As our class correspondence secretary, George always mentioned Billy's project in every PA Alumni issue.
Billy is thankful for Andover's emphasis on the School's Motto, in words as well as in deeds. The school is purposefully in service to its own community as well as the society at large and tries to make both more inclusive and equitable.
Billy recently recollected a few incidents at Andover when Non Sibi or True Caring was truly felt:
1  Summoned to Dean Benedict's office. Instead of being disciplined, he was told that his father had financial difficulty, but Andover had a job for him at the Common's Kitchen. Dean Benedict gave Billy a firm hand squeeze. Ms. Dickey, the Dean's secretary, gave Billy the warmest smile.
2  Mrs. O'Conner from the town of Andover did laundry for Andover students. Billy was the delivery boy. She always prepared Tea and cookies for Billy. She always asked about Billy's family in China.
3. Gordon Hammond '50 helped Billy do his homework when Billy could not fully understand what he was reading. Gordon invited Billy to Gordon's New Hampshire home where Billy first tasted fermented apple cyder.
4  House Master Harold Howe took Billy and a few other Andover students who couldn't go home on Thanksgiving to go climb Mt. Monadnock in New Hampshire. Billy learned about sharing Group Fun in the Great Outdoors.
5  English Teacher, Hart Levitt, volunteered his private time to coach Billy for the Senior Essay Reading Competition. Hart Levitt's advice: "Speak with your Heart. Never Mind too much about Correctness." Billy shall always remember him as Mr. "HeartLevitt".  Although the title of that Essay was " Why I Do Not Want to Become An American Citizen ?" Billy became An American Citizen and now considers America his Father and China his Mother, and he must do what he can to sustain that Good Relationship.
6  Of course, Abbie Emmons from Abbot first taught Billy how to dance and how to explore Goodwill Friendships. Reach out and smile warmly. That's the Non Sibi Spirit !
_________________________________________________