From Google Search – GoodTherapy
Trust issues often come from early life experiences and interactions. These experiences often take place in childhood. Some people do not get enough care and acceptance as children. Others are abused, violated, or mistreated.
TRUST ISSUES? COMMON SIGNS
Signs a person may be excessively mistrustful include:
Lack of intimacy or friendships
Mistrust that interferes with a relationship
Dramatic and stormy relationships
Suspicion or anxiety about friends and family
Terror during physical intimacy
Belief that others are deceptive or malevolent without evidence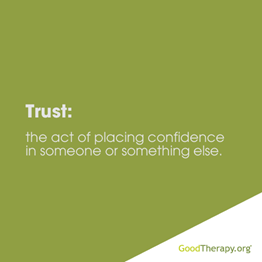 Social rejection in one's teens may shape their ability to trust. Some teens are bullied or treated as outcasts by peers. This can influence later relationships. Being betrayed or belittled by others impacts self-esteem. Self-esteem also plays a large role in a person's capacity to trust. People with low self-esteem may be less likely to trust others. Those with higher self-esteem may be more self-assured.
_______________________________________________